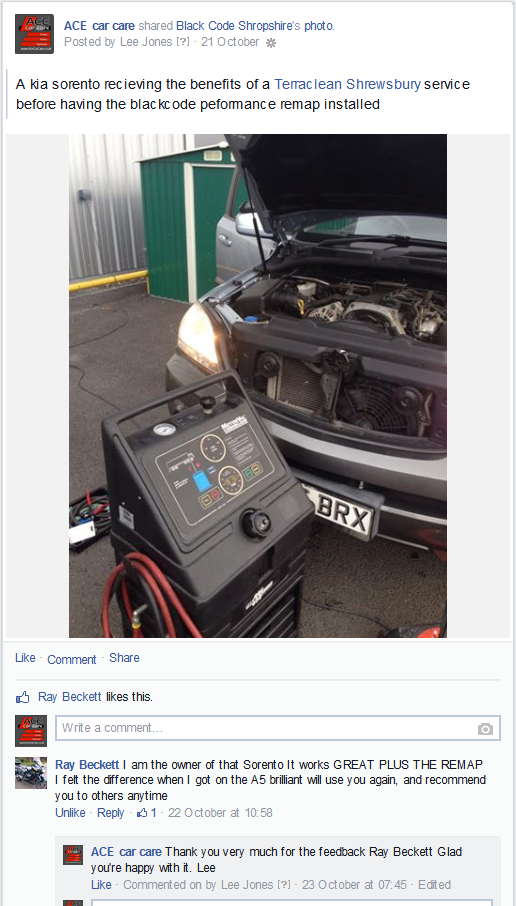 TerraClean Shrewsbury Gives Kia Sorrento A Clean
The owner of this Kia Sorrento had owned it for about a year or so, and although it was a pretty powerful motor, because he towed with it, he wanted just a little bit more grunt.
Originally he came in to talk to us about a remap, but as he was a lorry driver he knew all about the effects of carbon build-up on an engine's efficiency & performance. So when we told him about the TerraClean Shrewsbury service, and how it would remove carbon from inside the engine & exhaust, he was keen to have it done.
We put a package together for him to have both the remap & the TerraClean de-carbonising treatment, and he left the Kia with us for a few hours, before returning back to us to pick up his Sorrento.
After the remap & TerraClean, his journey home was very interesting. As soon as he drove the Kia, it was immediately apparent of the change in the way it drove, and he wanted to let us know how pleased he was with the improvement that had been made to an already great vehicle.
You can read the comments that he left on our Facebook page in the photo opposite. And we're really happy that he took the time & trouble to share his TerraClean experience with other cars, van, HGV & camper owners who may look to regain the performance & fuel economy lost by carbon build-up.
Just click here if you'd like to know the cost to de-carbonise your vehicle at TerraClean Shrewsbury.